Raimon Colomer Pagès was born in Vilafranca del Penedès (Barcelona) in October 1940.
He has spent all his life in Vilafranca del Penedès and its surroundings, a little area which has been enough for him and where he has found what he needs and where he feels quite identified.
As an adolescent , he began publishing caricatures in the local press while he studied accountancy at San Ramon de Penyafort College.
When he was 18 , he went to Madrid to see the paintings of El Greco in " The Museum
of Prado". That was one of his pictorical wishes, he wanted to see the real paintings, those paintings he had only seen in reproductions even though he had seen a real one in the Museum of Cau Ferrat in Sitges, and he wanted to see more of them. Greco´s paintings attracted him very much, his lengthened figures, his such sterilized bodies… Colomer Pagès drew figures which were very sterilized too, a stetic that he has always kept doing.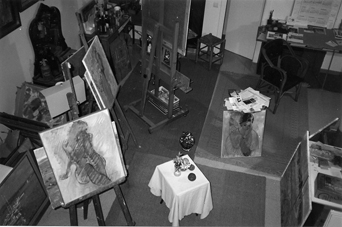 Part of the study-factory
Later he took contact with the French impressionists , especially Monet, this contact had been first through the books , but years later , in his travels through Europe, especially Paris, he was able to see and watch the paintings of his admired impressionists. The feeling of the light and colour that the great French painters had, meant a discovery for him. He felt very near to them but not the way they did it, because Colomer Pagès didn´t do oil painting in that time, but yes to their conception of the painting.
One must learn and learn, one never knows enough, there are always more possibilities that you discover and that you receive. You are always learning in painting; who thinks that knows everything is mistaken. This happens in all the professions, you can always go further and further. But what happens in painting is that you dream and imagine the furthest ; you think you can develop the theme the way you have thought, but then you get shocked by the reality. And when you are about to get what you pretended, you discover new possibilities. This is to say that you always want to get higher and higher objectives. We can say that there is constant dissatisfaction facing the pleasure that painting makes you feel. I enjoy painting , I don´t understand who says that painting is painful. For me this is not suffering . But then I have the analysis of the work realised. I tear a lot of my work , I sometimes put it aside, I leave it. And after some time , years perhaps … I would do it differently then. I accept it, I understand this is normal , because what you try is to improve every day, you think you have got it , but you are leaving the work done. I would say that the painting gives you immediate satisfaction and future dissatisfactions.
SHORT COMMENTS WHICH HAVE BEEN PUBLISHED

"COLOMER PAGÈS IS A PAINTER OF THE NEW ERA. WITH HIS OWN LIGHT, WITH BRIGHT STROKES"

B. XIFRÈ MORROS

"I WOULD SAY THAT THE REAL ROOTS OF COLOMER PAGÈS ARE , CONCERNING TO HIS PORTRAITS, FROM THE ORIENTAL PAINTERS, WHO ARE ABLE TO EXPRESS A LOT OF FEELINGS AND SENSATIONS WITH ONLY A BRUSH STROKE "

P. MOLLAR

"COLOMER PAGÈS IS PURE PICTORICAL SENSIBILITY; THE COLOUR FLOODS HIS CANVAS, TURNING IT INTO POETICAL BREATH "

J. JULIO

" PURE ATHMOSFERE , BUILT WITH LOOSE STROKES LIKE AN AGIL FENCING, REMARKING THE COLOUR, TO MAKE THE FIGURES, STILL LIVES AND LANSCAPES THICKEN; CONTRASTING SENSATIONS OR VERY BLENDED IN WHICH YOU GUESS THIS … TO BE OR NOT TO BE OF THE SHAPE WHICH IS REMEMBRANCE AND IT IS EXPERIENCE."

ANTONIO GASCÓ
ACADEMICIAN OF THE REAL ACADEMY OF SAN FERNANDO OF MADRID AND SAN CARLOS OF VALENCIA.

"PAINTING, WHICH COMING FROM AN IMPRESSIONIST ROOT FIGURATION, GETS A PERSONAL INTERPRETATION "

FRANCESC GALÍ

"COLOMER PAGÈS OWNS A MAGISTRAL POWER WITH THE BRUSH. HE HAS GOT A WAY OF PAINTING WHICH LETS REFLECT , LIKE FLASHES , WHAT HE IS INTERESTED IN US TO SEE."

A. SANTAMARIA

"COLOMER PAGÈS CREATES LANDSCAPES OR FIGURES WITH A VERY STRONG PERSONAL ACCENT "

MONTSE LAGO

HE OWNS AN IRIDESCENT BRUSH OF SPARKLING LIGHT WHICH WRAP UP THE THINGS MAGICALLY, AND THEN THEY ARE TRANSFIGURED. I ADMIRE THE SWEETNESS OF HIS TOUCH, HIS LIGHTNESS, THE ABILITY HE PLAYS WITH THE PHENOMENON OF THE OPTIC MIXING."

RAFAEL MANZANO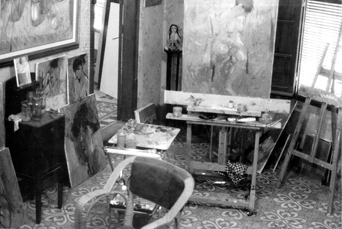 Part of the study-factory
"COLOMER PAGÈS , DESTROYER- CONSTRUCTOR , HE ASSIMILATES THE TOPICS WHICH HE GRINDS AND REBUILDS , WHICH HE SMASHES AGAIN AND FROM ITS REMAINS HE CREATES A NEW REALITY. YOU CAN SEE TWO MANIFESTATIONS OR FACES IN HIS WORK; ONE IS WHEN HE WATCHES THE REALITY FROM THE PUREST COLOUR , EXPLAINS IT, ESPECIALLY IN HIS LANDSCAPES, IN A CONCISE WAY, THROUGH AN HARMONIOUS PLAY OF STROKES, GETTING BRIGHT AND SHINING RESULTS..
THEN THE SECOND ASPECT OR MANIFESTATION APPEARS WHICH GOES ALONG A PATH WHICH RUBS THE IRREGULARITY, THE PURE RESEARCH FOR NEW SHAPES, WHICH HE MAKES SPRING UP OR EMERGE FROM A REALITY HE WORKS WITH HUGE FREEDOM. TWO STYLES, TWO WAYS OF TELLING US WHAT HE WANTS, NOT FAR ONE FROM THE OTHER, BUT WHICH OFFER US A DOUBLE AND DIFFERENT IMAGE OF HIS CREATIONAL ABILITY."

C.NEBOT

"THE COLOUR IS A BASIC ELEMENT IN HIS WORK, OPENED IN A VERY WIDE THEMATIC RANGE.

COLOMER PAGÈS BREAKS AESTHETIC FRONTIERS, HE CREATES HIS OWN WAYS AND GOES ALONG THEM WITH COMPLETE FREEDOM. IT IS HIS LIFE DEVOTED TO THE PAINTING.HE HAS SUCCEEDED IN REACHING IT."

J. LLOP S.